RLSS Rookie Lifeguards
RLSS UK's Rookie Lifeguard programme gives your child the skills they need to be confident in the pool or the sea – which means peace of mind for you. With colourful materials and fun, varied activities, the Rookie Lifeguard scheme teaches children how to swim and enjoy water safely, whether in shallow or deeper water.
Built into the programme are lessons in valuable survival, rescue and sports skills…all delivered in an exciting way that will get children involved and engage and motivate them. The course can run parallel to your child's current swimming lessons and will enhance the skills they learn in the pool.
For many of our Rookie Lifeguards, our programme offers the first opportunity to explore water safety, gradually gaining independence and confidence while learning vital life skills. Our programme will inspire and embolden your child, helping them keep themselves, their friends and their family safe in the water through a range of fun activities that lead towards a series of awards.
 
Each stage award costs £45 and will take place at St Georges Preparatory School  
All our courses include a certificate and badge. Please contact us here to book! 
Rookie Lifeguard is aimed at children – though the skills learned through the course of the programme are just as valuable to people of all ages. The scheme begins with Stage 1 of the Bronze Award and progresses to Stage 3 of the Gold Award where our Rookie Lifeguards perform impressive lifesaving tows.
Aimed at confident swimmers aged 8-12 who are happy in deep water.We are commencing this summer with the Bronze Stage of which there are 3 awards, Stage 1, Stage 2 and Stage 3 for your child or children to do or they can do all 3! Upon completion of each course a badge and certificate is awarded. (Course details further down.)




OPTIONAL : Tshirts £9.50 and hoodies £18.95 can be ordered when booking.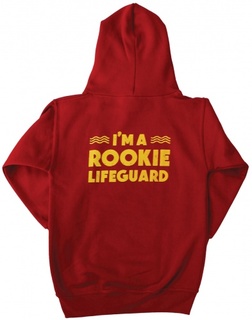 Bronze Stage 1 Award
22-26 July 14:30-16:30 and is completed in 5 sessions. 
Bronze Stage 2 Award
29 July - 02 August 14:30-16:30 and is completed in 5 sessions. 
Bronze Stage 3 Award
05 - 09 August 14:30-16:30 and is completed in 5 sessions. 
The last day is 1 hour practice and 1 hour assessment. 
22 - 26 July Rookies Bronze Stage 1 Award course includes :-
Session 1 personal  safety  in an emergency 
Session 2 casualty recognition
Session 3 water safety equipment 
Session4 safety at the swimming pool 
Session 5 making an emergency call
Session 6 swimming in clothing 
Session 7 and 8  putting the whole skills sequence together.
Session 9 and 10 practice skills and assessment 
29 July - 02 August Rookies Bronze Stage 2 Award course includes :-
Session 1 categories of rescues
Session 2 understanding safe entries
Session3 safe code 
Session 4 water safety around the home
Session 5 safety at the beach
Session 6 cold water dangers
Sessions 7 and 8 put all skills in sequences 
Sessions 9 and 10 practice  and assessment 
05 - 09 August Rookies Bronze Stage 3 Award course includes :-
Session 1 swept out to sea
Session 2 safety at canals and rivers
Session 3 dangers of mudflats and quicksand
Session 4 safety at lakes and reservoirs 
Session 5 dangers of ice
Session 6 going to the beach 
Session 7 and 8 put all sequences together 
Session 9 and 10 practice and assessment